Incident off Onion Valley, near Rattlesnake Butte,
4 tankers and AA along with INF resources.
5 type 3 engine immediate need, 2 hand crews type 1 or 2 immediate need
Tanker 02, 76, 80, 90, 96,100 all committed to the incident.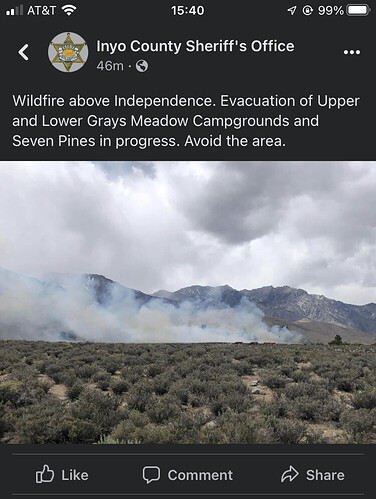 Been gusty in the area the past couple weeks. Had to shut down 395 to high profile vehicles just a couple days ago.
Cancelling all fixed wing with the exception of T02, T76, T100
T76,T100, and T02 all released by the IC
Last I heard was 25.
No maping as of yet
@FakeFire update as of 1831
Latest from Inyo national Forest.
Rattlesnake Fire Prompts Evacuations
The Rattlesnake fire started in the afternoon of May 11th, West of Independence California. The fire is active on CAL FIRE San Bernardino/Inyo/Mono Unit responsibility lands. However, it is burning very close to Inyo National Forest land and recreation sites. Strong winds began pushing the blaze towards the Lower and Upper Grays Meadow campgrounds as well as Seven Pines, which prompted the Inyo County Sheriff's Office to evacuate them.
The Rattlesnake fire is currently estimated at around 25 acres. Crews, engines, dozers, and 3 retardant drops have helped the fire to slow its progress. There is 0% containment at this time but low temperatures in the 30's tonight, along with winds slowing after midnight look to give firefighters a chance to increase containment.
The Inyo National Forest is in Unified Command with CALFIRE and the Inyo County Sheriff on this incident. Notifications will be made once it is safe to lift the evacuations.