Elk IC reporting 4-5 acres. As anyone heard anything else ?
Helicopter 205 from Vina is on scene.
20 plus A out of happy camp
The fire is cleaning up a snag patch, completely surrounded by the 2014 Frying Pan Fire. The trees that survived 2014 fires are not going to be killed by this fire, and if anything, this fire will kill a lot of the baby trees that came in after the last fire. Elsewhere in NorCal people are doing prescribed fires right now. Why? Because the conditions are perfect for good fire.
When we going to learn to just let the Klamath burn? All we are doing putting out shoulder-season fires is making the already-sick forests more overcrowded and out-of-wack. Would you rather let a fire burn thru the spring and clean up the woods, or go back there in August and watch helpless as the Slater Fire rips off tens of thousands of acres and countless homes.
The crews getting sent to put this fire out are now unavailable to do prescribed fire on their home units, this includes contractors. So not only are we putting out a fire that doesn't need suppression - we are also missing opportunities to get good fire on the ground elsewhere, or to train these firefighters in prescribed fire.
I know the USFS is just following policy and that they can't manage any fire that isn't a natural ignition, or they haven't got NEPA done for it, or they need to put their crews in training this week and don't have the resources to deal with it. But why staff it at all? How long can we keep blaming our failures on bad policy? I don't understand how we can be 20 years into the 21st century and still be so backwards with how we are dealing with fires in places like the Klamath.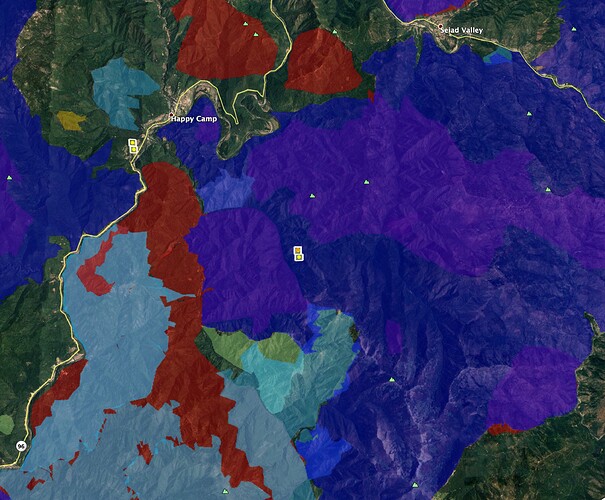 Fire is two MODIS squares in center of this map. 2014 Frying Pan Fire in blue. Areas in light blue burned in 2006.
100 percent agree. Why not let any type of start burn this time of the year? Wait, the FS is completely mis managed, and they would rather have large, resource damaging fires during the summer. Rather then manage the land, the just are looking for more money based upon the large fires they have. Don't understand why more people don't speak out about how the FS is no managing the lands for the tax payer.
Talk to your politicians. Tell them they should let the fires burn. If they said so, the USFS would. But the public opinion isn't there yet to support that.