Dairy incident, originally dispatched for 68th ave at 99E at 1627, but nobody could get the proper location (and side of the river) until roughly 1650, despite ample fire cameras available to triangulate the smoke and commit resources to the proper side of the river.

Amazing tools not being used.
Tyler Road at East Canal Road
10-15 acres, with a 3 acre spot ahead of it on US Fish and Wildlife land. Grass, brush and jungle.
20-30 acres
requesting 5 additional engines, 2 dozers, checking availability of rotor wing.
IC requesting 5 additional type 3 engines and 2 dozers, reports the fire is now 30 acres, IC would also like to check the availability of copters/aircraft. The Rock fire has most of the area aircraft.
Looking at the camera looks like that spot is taking off in front of the main fire
Yes it's cleaning up that "jungle."
IC is requesting 5 water tenders and AA with 1 copter.
125 acres, potential for 200. Bumping into the next orchard, left flank going to burn to the river. AA210 is only fixed wing, no tankers due to LRA and US Fish Wildlife land with no structure threat. Copter 3HT out of Chester on scene, switching from long line to belly hook for faster turn around out of the river.
Per IC 150 acres 20% containment.
Resources have been mopping up this one all week. For the DPA/jurisdiction geeks out there, this one is a rare catch right in the middle of the valley floor in Tehama County. US Fish and Wildlife Service's Sacramento River National Wildlife Refuge, with Fed as DPA.
TGU sent an LRA response initial attack with no aircraft. Aircraft was discussed later on as the incident grew, but the first reaction was due to LRA, let's hold out, no threat to structures or life at the moment. They eventually ordered up an AA and rotor out of Chester (Fed contract, but closest IA resource.) Pulled the trigger for a tanker, which was already in the air for SHU-Rock, but when they realized over 90% of the fire was on US Fish and Wildland land, AA and IC agreed to cancel the tanker to avoid the cost complexity of that, combined with no structure/life threat. The USFWS engine out of Delevan (managed through MNF) was ordered later into the incident.
Turns out the Chester copter stayed overnight in Red Bluff and was assigned to the incident for the next few days mopping up. While CalFire had extended freqs ordered up for Air FM and Air/ground, the rotor switched to A/G14 instead, and ordering was managed through MNF, with MNF dispatch on late for the week. SHF E313 came off the incident Friday for dinner in town, not mountain dirty, but still some tired faces (and 110F)
https://www.fws.gov/refuge/Sacramento/map.html
Pink oval is fire area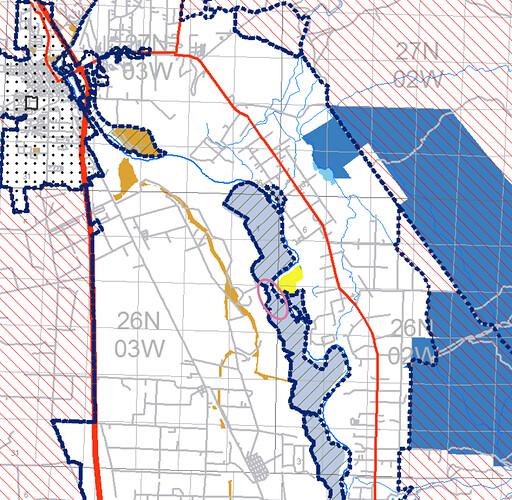 Interesting. The bean counters should a fun with this one. Hope they showed meal breaks. Lol.
They actually have a gif for this.