Just was looking over the NEU-BRIDGE incident and saw this on the ADSBExchange site and thought I'd post this.
I know the guys on ground are the backbone of getting fires out, but the Air Attack out Grass Valley is a very busy place I can imagine.
This is all after already being over the BRIDGE incident most of the morning and just returning back to base at about 12:00 p.m.
At approximately 12:15 p.m. Air Attack requested with one helicopter to the town of NEU-KIBBIE Kibbie in Yuba County arriving about 10 minutes later and requesting a tanker from the same base. After all appears clear at about 1:20 p.m. they head to the NEU-BRIDGE fire.
After doing a few circles they head back to base at about 1:45 pm. About half way back to base, a flareup occurs on the BRIDGE fire and they turn-around to provide assistance. After a few minutes monitoring over the BRIDGE they are diverted to a new start, trailer fire with potential extension to wildland with a full response on order NEU-SCOTTS. Air Attack begins their response at about 1:55 p.m.
They arrive at about 2:03 p.m. and work on the incident until about 2:15 p.m. in a monitoring state as locals resources will able to handle the incident releasing them from the incident and returning to base shortly after 2:20 p.m.
Three separate incidents in less than a 2 hour span, and this is just normal day for them. While monitoring the radio, there was a potential for 2 others that could have just as easily needed AA support but were quickly stopped.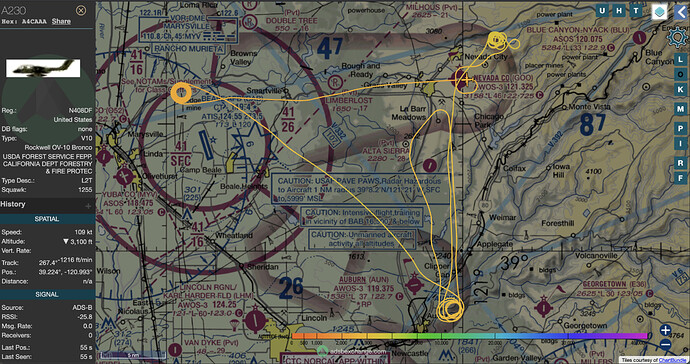 Just wanted to say "Nice work" and a huge "THANK YOU" to the air and ground resources that continuously respond to keep our wildlands and communities safe.