There is also a fire New River Marine corps airbase across from everyone's favorite Marine corps base Camp legeune.
Lots of firing taking place. Hotspots beyond the head Cemetery road to the forest road system heading southwest and on the south west side down catfish lake road to Morton field road.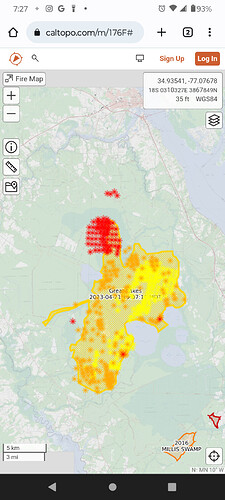 37000 or more according to some sources.
It blew up and took off running, with winds gusting from the south at 30-35 mph. Ventusky is forecasting that winds are going to slow down at sundown tonight and shift to an unstable westerly with 5-10 mph westerlies and a half-inch or more precip through Sunday night.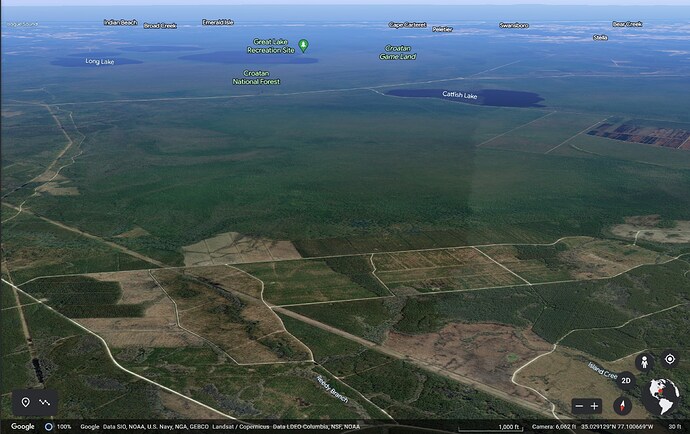 Looking south. The fire is covering the center of the image. The road in the center-left is Little Road where the fire's progress has been checked. County Line Road runs left to right, center-low, with parcels behind.
Backfiring, and/or spotting, has occurred on or near County Line Road. This looks like the place where they can dig in, with favorable weather on Sunday.
[ftp.wildfire.gov is down at the moment, and there might not be anything there for this fire, yet]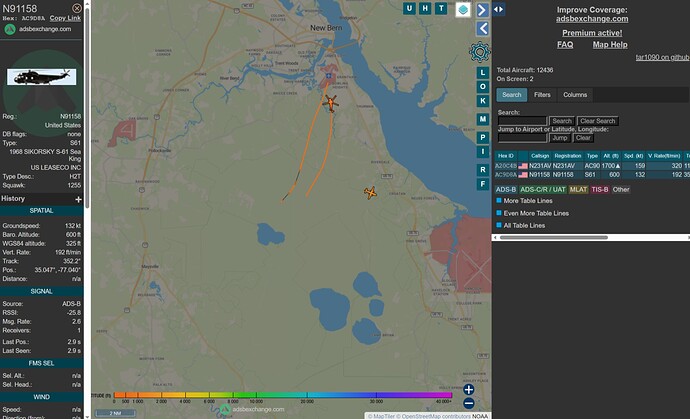 This is an Air Attack twin-engine Turbo Commander and a S61 Sea King (Type 1) doing intensity drops. Conditions may be improving on the line. There's also K-Max (Type 1) dropping around Catfish Lake. [edited]
Sounds like still around 35000 acres and they had rain today. NIFC and incident don't even have this fire listed yet.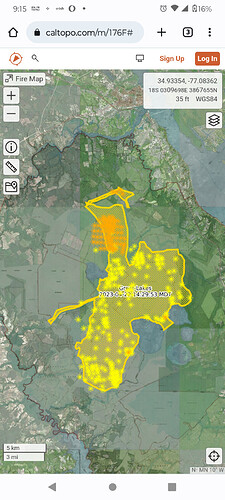 Great Lakes Fire Unified Command, USFS CNF & NC Forestry
April 23 Morning Operational Update
Facebook: https://fb.watch/k5dzhrP4bL/
---
Additional info:
Firefighting personnel make progress on Great Lakes Fire, now 30% contained and 36,000 acres in size

NEW BERN, April 23, 2023 – Saturday evening thunderstorms resulted in beneficial rain, as much as half an inch, on the Great Lakes Fire. The fire's northern perimeter is 5 miles southwest of Coastal Carolina Regional Airport.

As of 9 a.m. Sunday, April 23, the fire's footprint remains the same, showing no growth overnight. As a result, firefighting crews have increased containment to 30%. Twenty tractor plow units are constructing 25 miles of firebreaks around the fire's edge in an effort to prevent the fire from spreading to private land.

Higher pressure, 30-35% humidity and much lighter winds are expected Sunday. North to northwest winds Sunday morning will shift to the west in the afternoon, ahead of a dry cold front passing through overnight Sunday into Monday morning.
…
https://fb.watch/k5dbhhG3S0/