Additional state task force from Clatsop County en route.
OES type 3 ST from Alameda County.
Update: Evacuation Immediate
Areas Affected: Klamath, OR
Klamath County, north of the town of Beatty. Sycan Estates Area is under level 3 (GO NOW) evacuation notice and need to leave immediately. Red Cross evacuation point is Betty Community Center.
Klamath Co. North of Beatty. Sycan Estates is under Level 3 (GO NOW) evac notice.


OES Type 6 strike team from San Mateo County, Ca was sent today. 4 from SMCO and a 5th from Marin County.
Friday July 9 Bootleg Fire near Chiloquin, OR 38,892 acres per 11:07pm infrared (IR) flight.
Link to open map: GISsurfer General Purpose Web Map and GIS Viewer | Surf GIS DATA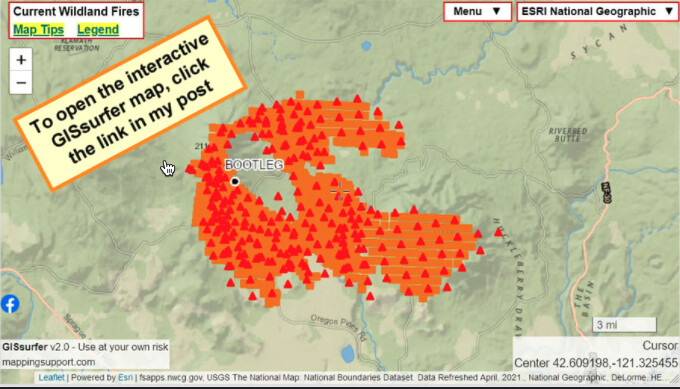 Heard online the fire is threatening the WAPA transmission lines that connect California to hydropower on the Columbia River. Yesterday's midday VIIRS and last night's IR shows the fire well into the power line area.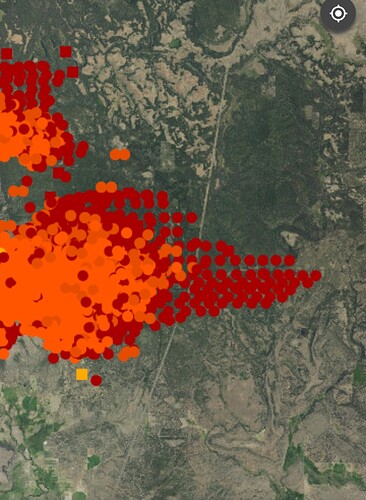 Additional task force from Clackamas County deployed yesterday
76897 acres, 0% containment.
I believe that's why the 2 OES strike teams were sent up there from Ca.
Reports are coming in that we lost three of the OR-CA lines.
The intertie has been burned through by this fire for quite some time now but maybe smoke production is a factor that led to it being shut down, or aircraft or ground safety, who knows.
Three 500 kV lines run co-located through the area of the burn; a fourth one goes over and up the I-5 corridor through Oregon. Shown as Malin-Summer Lake in this graphic. A fifth is the pacific HVDC line which runs from the Columbia River to Southern California by way of western Nevada.
Here is a map of the power grid along with a shot of the clear cut that shows how the lines pass through the burn area.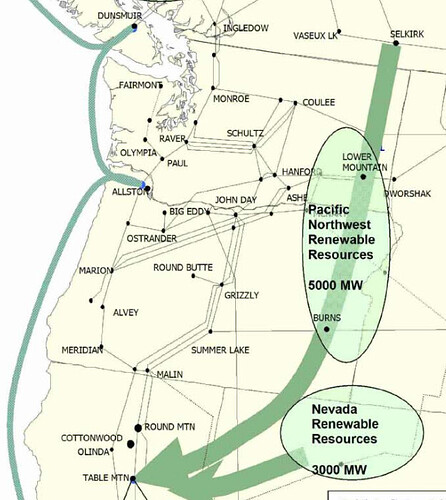 Type 1 Team ordered. Allen
I did see in another place that it was thick smoke that tripped the lines out, as expected.
It happened in Dutch Flat some years ago as well The loss of power took out the nearby AAB pumps.
I worked a fire in this area and under these lines years ago, and the power company was out there in among the burning stumps, crawling all over their equipment to inspect quickly and thoroughly, because they apparently wanted very badly to turn it back on.