Applegate Valley wildfire in SW of Medford, Oregon this afternoon.
https://www.kdrv.com/content/news/Crews-respond-to-wildfire-in-the-Applegate-Valley-558492451.html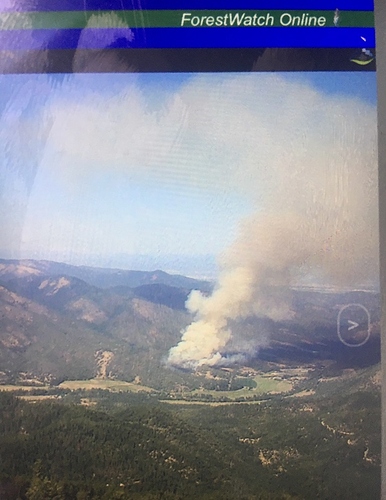 Per ODF SW on Facebook:
GYDA FIRE PM UPDATE: Hours after the Gyda Fire was initially reported, fire crews were able to line most of the area burned, saving a dozen homes. The fire, located on the 11000-block of Highway 238, is estimated to be 55 acres. Firefighters will be focused on completing the fire line overnight, and strengthening the perimeter. Resources assigned to the fire overnight include eight engines, six crews, five water tenders, and three bulldozers.
The Gyda fire was first reported at approximately 3:50 p.m. on Tuesday afternoon to Applegate Valley Fire District and the ODF Southwest Oregon District. Both agencies responded with engines; crews, bulldozers, water tenders, and air support including two large airtankers (LATs), and four helicopters were brought in by ODF. Initially reported to be approximately 10 acres, the fire was burning up steep terrain and threatening 12 houses in the area. With the help of structural resources, firefighters were able to save the residences. By 6 p.m., airtankers assigned to the fire were able to create a temporary fire line with retardant that crews were able to quickly build upon and secure.
Two out buildings were initially reported as damaged by the fire, however following further inspection, both have been determined to be destroyed. Evacuations were not issued, however traffic in the area was slowed due to the nearby incident. The cause of the fire is under investigation.
A number of ODF's partner agencies have provided resources, including the BLM Oregon & Washington, Applegate Valley Fire District, Jacksonville Fire Department, Fire District 3, Rural Metro Fire - Josephine County, Grants Pass Department of Public Safety, Illinois Valley Fire District, Rogue River Fire District, the Oregon Department of Transportation, the U.S. Forest Service- Rogue River-Siskiyou National Forest, the Jackson County Sheriff's Office - Oregon, and Oregon State Police. These resources and partnerships are greatly appreciated by ODF Southwest Oregon District.