Can someone post up frequencies for fire and first responders,Specifically kern river valley….Thanks!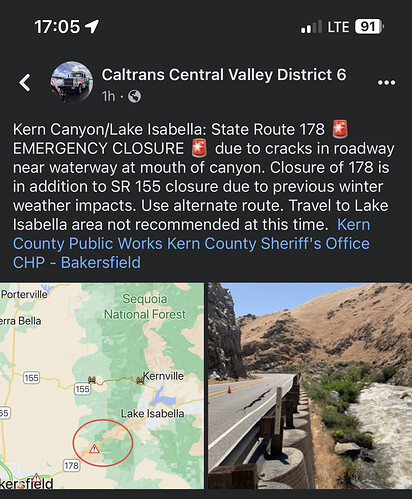 This is going to mess up responses to fires big time. 155 closed due to snow damage now 178 thru the canyon closed due to erosion. Plus the route to camp 9 (which is filling up with water) from the east is washed out. Gunna be long trips if they go extended. Good news is lake is probably full enough for super scoopers.
Thanks much. Lots of traffic on Cal-Bodfish and now I know why. Was so focused on touching up on some weed whacking that I didn't take the time to look at the road situation.
Was thinking the same regarding the canyon. I keep hearing different things, but the concensus is the water will likely go over the spillway, it was real close to the rd at richbar. I guess if it's closed fire frequency should go down. We'll see. Was hearing rumors that if the flow is high enough over the spillway, keyesville bridge will be toast, with southfork bridge out of commission access could be interesting
As of today the lake started touching the bottom of the service spillway. Pretty neat to see along with so much water rippin thru keyesville. This week they mapped approx. 27" of snowpack still which is roughly a million acre feet still to melt. It's only a matter of days before it flows over. In my opinion the canyon closing is a blessing cuz of how dangerous the Killer Kern will be this year.
Ya the canyon being closed maybe a blessing in disguise, less fires, drownings and wrecks. It's going to make travel and response times increase potentially. But if we do lose the keysville bridge that's going to trigger an emergency for woffard heights and kernville as far as access goes. The only way to drive in would be up through cal hot springs and down mtn 99. Possibly a sh… storm brewing