Is this the fire front or a burning op? Knocking on the door of these cams
Bloomer comm site is safe. After the Camp fire they made a fire break around it big enough to land a VLAT.
There is a CalFire crew scratching a line and firing as they go. They panned down a minute ago to show that.
Bloomer Lookout might be overrun with fire soon…
http://www.alertwildfire.org/shastamodoc/index.html?camera=Axis-BloomerLookout1&v=81e002f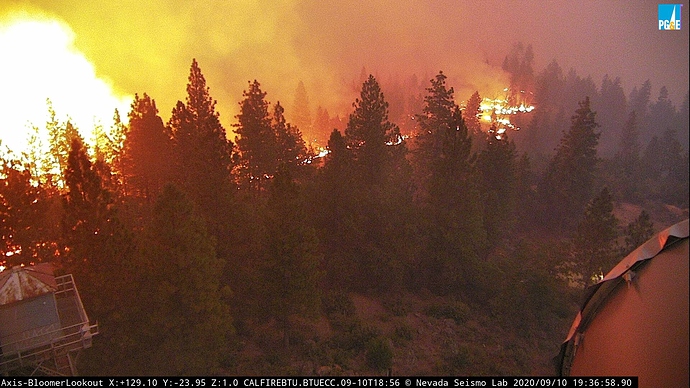 Probably not…the fire is backing into the mountain top, the dozer just went by, there is a hose lay in place along with a hand crew firing around the infrastructure. I think it will be ok.
Crews are doing firing ops to actually protect this site.
you bet…great action
this camera will see tomorrow
Zeke,
That was one of the best response, statements…well done…my hat and respect is to you brother. thanks for what you did and are doing.
Now moving all resources assigned to Forbestown to Highway 162 and Forbestown immediately to stage
Nice job. Ill admit I'm biased but can we not call the mid August lightning event a "bust". Fire Weather Watches for dry lightning were posted about 36 hours early and Red Flag Warnings with about 18 hours lead time. 2008 caught us with our pants down, no argument on the bust word there.
I'm not sure of the origin of the term "bust" but to do not believe it is derogatory in nature. We love our IMET's.
I'd never heard 'bust' meant un-forecasted. Learn something new every day!
Zeke in the term of "Lightning Bust" I am right with you in your definition of a lot of wide spread lightning, I have never heard of it tied to "unforecasted".
Lightning bust totally a thing.
IMETs rock.
Super well done and professional. You were certainly helped by having
an interviewer who had done some homework, and was pretty well
versed on the subject, unlike many we see on TV.