New start on the ENF. NE of Omo Ranch. Difficult access. 2-3 Acres torching with good wind
3-5 acres. Evacuating campground on 8N55
This is the Caldor fire. They had a couple aircraft on it earlier.
8N55 is near the PIPI Valley campground. I'm told the fire is close the Barry's Crossing on the Cosumnes River. Fire fighters are having trouble getting there. Locked fences, tough logging roads.
Helicopters are flying over the Omo Ranch area telling people to evacuate now.
It's looking bad. Burning so brightly this late at night. It could really explode tomorrow if they don't put it down quick
The chp ship just left the area.
Unless something changes things are going to get uglier once the sun gets on in a few hours.
This feed is covering ENF T8, some traffic, but as nights go, not the most exciting traffic.
Been a while since there has been a fire in that area. Lot of room for it to run. Timber, mix timber and maybe some brush patches and mountain misery. Hopefully they can find some old logging roads and get on this one. Looking at the webcam it putting up a good column this morning. Things might go way south when the sun gets on it. Temp already 80 at my house in Twain Harte at 4000 ft.
Was just thinking the same - and it looks to be setting up to be in alignment with the Consumnes river middle fork drainage. Perhaps Dogtown creek Drainage as well.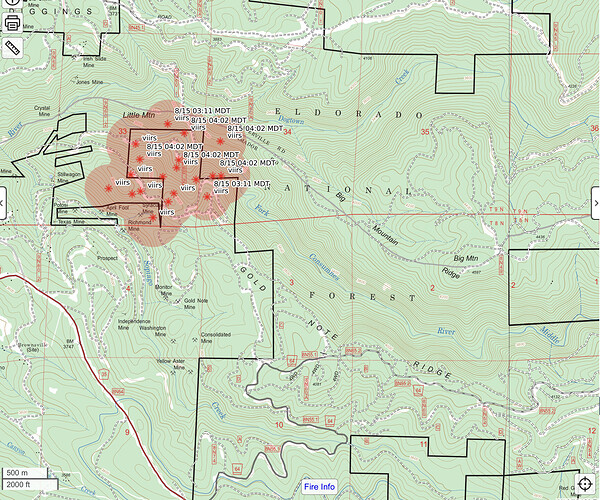 The Omo Ranch camera shows it waking up
National Weather Service is forecasting 5 to 8 mph WNW winds for Omo Ranch today shifting to west this evening. Not good given the alignment with those drainages.
Bad news, started in A&E in 79…My captains always talked about the Omo Ranch fire and how it ripped.
Temps in the low to mid 90's with RH in the 10%-15% range isn't helpful…
Time will tell.
Maybe once the air show fires up, they'll hit it hard early and have some success.