The Mountain View incident in Mono County just hit 5,000
CROS. 0%
Looks like this is a BDU/Central Ca District incident.
This thing was cranking earlier, viewed it from Daggett Summit on highway 207! Big winds up there as well.
Last report was 5,000 acres
Type 2 long team pending in IROC
Good footprint from WIFIRE map, https://firemap.sdsc.edu/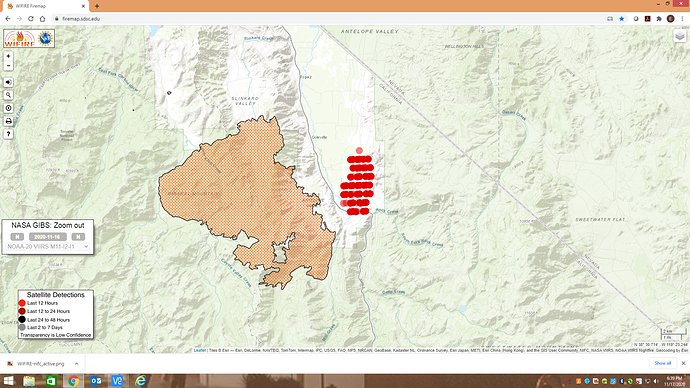 From Reno KTVN its going big with winds. I suspect any resources responding to Reno on Highway north-395 will be diverted. Homes are in peril from the TV news reports.
• 20,800 acres, grass and brush, 0% contained
• Continued threat to structures
• Structures damage and destroyed
• Threat to Topaz Ranch Estates, Camp Antelope Colony and Mountain Warfare Training Center Housing
• Evacuations in progress
• Closure of Hwy 395 in both directions
Be careful with that assumption. The algorithm works when there are no clouds. Lots of clouds over the area now. Obviously weather has turned in their favor but the abrupt loss of the signature was due to high clouds. (And by this point the fire is likely less active)
Major learned lesson there. Thanks to you and Flapjack for the correction.
Correct unit should be CA-OVD. Bishop Field Office BLM. OVD BLM has DPA for most of the SRA in Mono County, I believe.
does anybody know if there is a perimeter map of this incident?
Looks like Team 11 is going for the Type 2 Team request on this fire.
Mono County Sheriff Fire Update Page: https://mountain-view-fire-incident-monomammoth.hub.arcgis.com/?fbclid=IwAR1gD5HY4my3_E3CAjytFrARhrSNOaadPtYLoM7PkPkq3qy2SASxp0tivq0
From KTVN news https://www.ktvn.com/story/42926056/fire-in-walker-canyon-in-mono-county-closes-us395
The Mono County Sheriff's Office says US-395 is set to reopen at 2:00 p.m., and evacuation orders will be lifted for residents on the west side of US-395. Evacuations on the east of US-395 will be reassessed in 24 hours.
Shelter assistance has been established at the Carson Valley Inn in Minden. Residents who need assistance can contact the inn at (775) 782-9711.
The Mono County Sheriff's Office says one person has died in the fire and at least 80 structures were destroyed.
Authorities believe the fire started near Mountain View BBQ in Walker, but the fire was not linked to the restaurant.
Large animals can be taken to the Douglas County Fairgrounds.
Liberty Utilities says power will remain out in the Coleville/Walker area for safety as crews work to put out the fire. Crews are standing by to make repairs and restore power as quickly as possible.
From the LA Time at @ noon today: https://www.latimes.com/california/story/2020-11-18/la-me-mountain-view-fire-burns-thousands-of-acres
Spurred by strong winds, the Mountain View Fire ignited Tuesday afternoon and has since scorched nearly 29,000 acres in the eastern Sierra, along the Nevada border. It is 0% contained.
Besides the one fatality, Mono County sheriff's officials said they are not aware of additional injuries.
With the fire raging, residents in the communities of Coleville, Walker and Topaz were ordered to evacuate.
From Topaz Lake looking south from yesterday: