2020 is gone… Let's see what Mother Nature throws at us this year.
There is model support for a Diablo wind event Sunday night through Tuesday morning along with hot temperatures and RH in the 8-20% range. The winds will stay above 1000' so below will likely have onshore flow. The greatest chance for critical fire weather will be in cured grass mainly between 1,200-2000'. This is a pretty rare, one in every 5-7 year Diablo wind event, taking into consideration the heat and strength of the winds 15-25 mph with Gusts to 40 mph.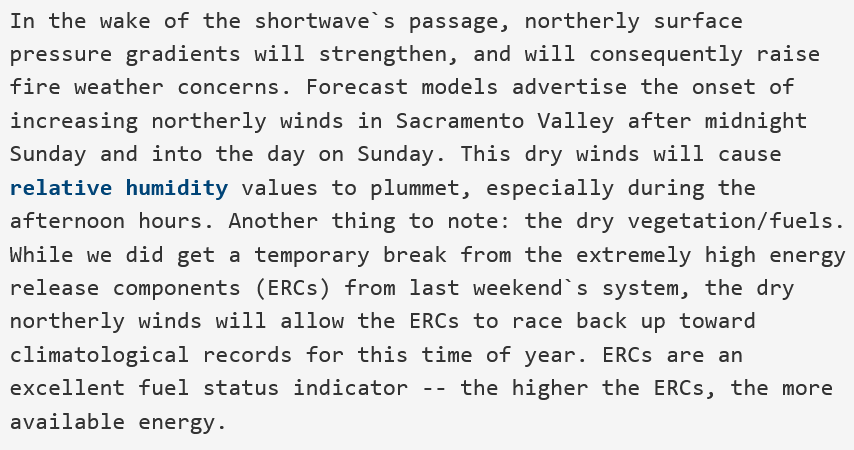 From NWS Sacramento 4/30 evening shift forecast discussion
This should continue to impact and dry out bulky fuels especially on south facing slopes where sunshine, downsloping winds, and hot temperatures combine. There is no widespread rain forecasted in the next 10 days.
NWS Sac 2:30pm Saturday:
Today will be the coolest day with temperatures expected to warm each of the next several days.
Surface high pressure will build over Oregon that will result in
northerly winds developing later tonight and Sunday. Winds on
Sunday in the valley will mostly be between 15 and 20 mph with
gusts 25 to 35 mph. A few local spots on the westside of the
valley might get slightly stronger where the strongest winds will
be. Temperatures will be warmer, humidities lower and gusty
northerly winds will increase fire weather concerns the next
several days.
Temperatures will continue to warm Monday and Tuesday and return
to the upper 80s and lower 90s across the Central Valley.
Tuesday much lighter north winds will occur in the central valley
and the fire weather concerns will be reduced.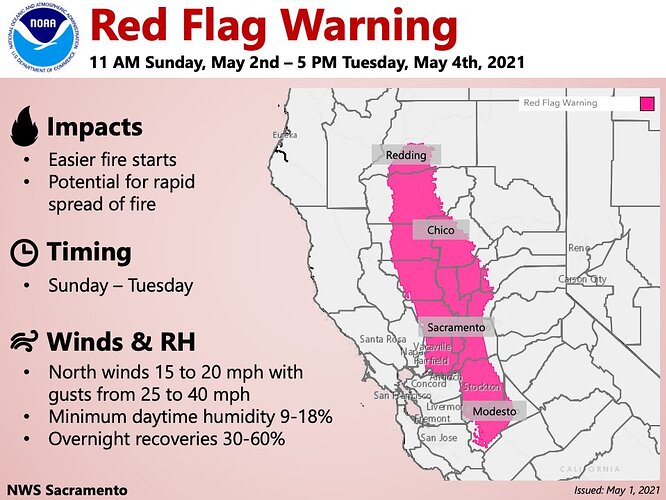 Wind starting to make its increasing push through the Bodega corridor to West Petaluma
W 20 G 25-30
RH 29 dropping
Temp 76
Synopsis…
The GFS brings a moderate-strong Diablo wind event Saturday night-Monday night. Upper level support is very good and temperatures climb into the 80's to lower 90's at low elevations Sunday and Monday. Very dry conditions are likely.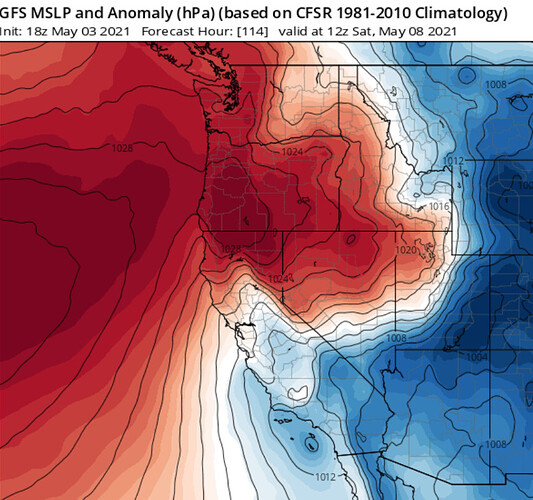 Other forecast models agree that this event could occur. Although the 12z ECMWF is a bit far west with the trough axis, it's 12z ensemble mean is an agreement with the other forecast models.
This has the potential to be a high impact weather event and I am looking forward to the NAM coming into resolution to paint a better picture.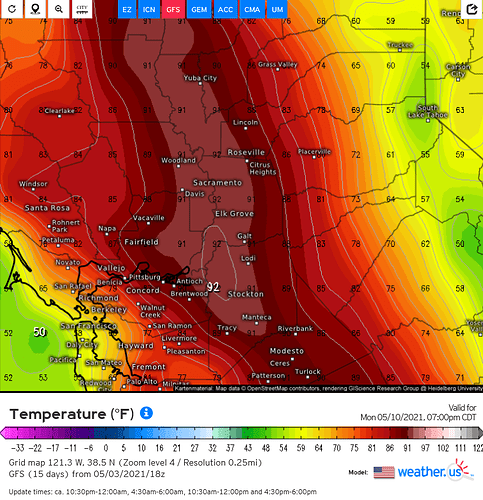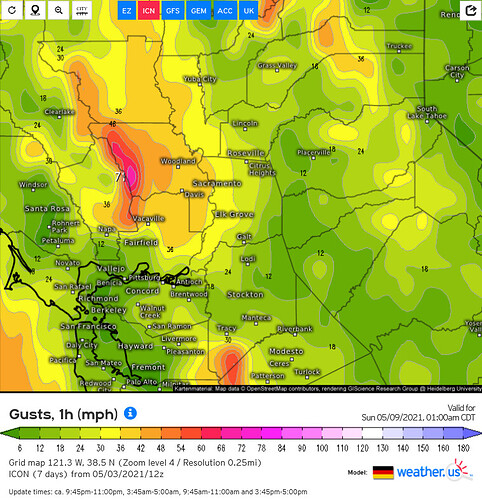 Diablo Wind event on track. Fire weather watch posted.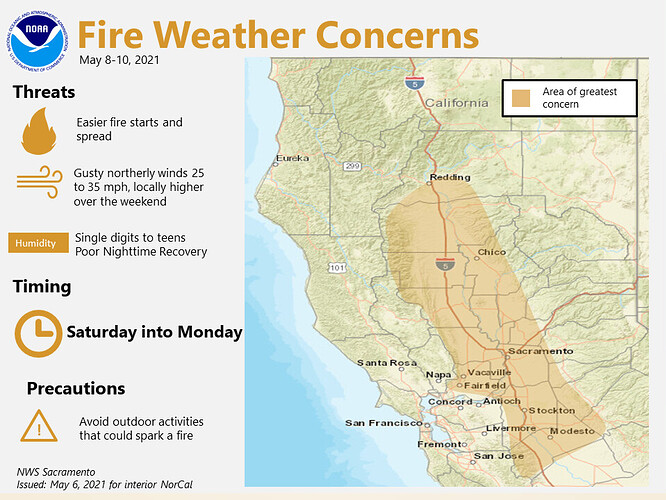 The best way to describe the next week across the interior of California is using a hair dryer on the highest setting right across the middle of the state. Surface high pressure builds into the Williamette Valley of Oregon tomorrow setting up the northerly wind event. The downsloping flow will cause compressional heating and drying across the middle of CA. At the same time a low pressure system over the Great Basin cuts off over Idaho and retrogrades into Nevada reinforcing some offshore flow through next week. After the low pressure exits an upper level ridge builds over the state keeping high temperatures above normal.
After this there is evidence of another inside slider moving into the Great Basin around D9, reinforcing the offshore flow but this is too far out to forecast or give probability on.
Very grim conditions water wise and for fuel conditions.
The problem now is that we are half way through spring today (45 days until summer) and every single day conditions are compounding. The conditions and upcoming weather make it is as if the first day of summer is today, an extended summer.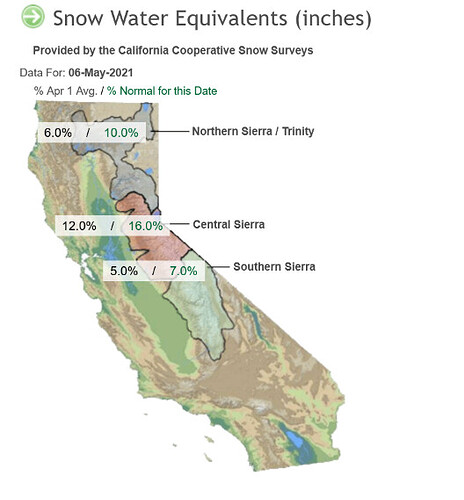 NWS: San Francisco CA 9:54 AM Fri …Red Flag Warning North and East Bay hills as well as East Bay interior valleys 11 pm Friday through 6 am Monday for offshore winds and lowering humidity… .A moderate early season offshore wind event will develop this weekend. This will occur as fuels are near record dry levels after a very dry winter. The initial burst of dry offshore winds will reach the Napa county hills around 11 pm Friday night and then spread across the East Bay overnight into early Saturday. These winds will usher in much drier air along with wind gusts in excess of 50 mph above 2000 feet. On Saturday breezy north winds will continue as temperatures warm well into the 80s with humidity values lowering into the teens and single digits. This pattern will help to rapidly dry out the fine fuels through the weekend. There may be some moderate humidity recovery Saturday night but warm and dry weather persists Sunday with continued dry northerly winds and warm temperatures that will allow for rapid fire spread on any new ignitions, especially in the grass and dry brush.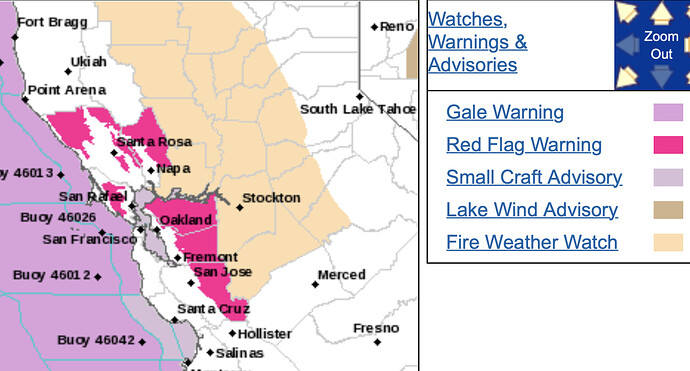 This is only the 2nd time in @NWSBayArea history of issuing a RFW in May!!!
Any idea when the first RFW was?
How uncommon is it to see a Diablo wind event like this in the month of may? What's the reasoning for this event happening this early in the season and is it a precursor for how our summer/fall is going to look in terms of amount of wind events?
*if this is in the wrong section please feel free to move it
May 2013 for the North Bay. We did issue for Monterey/San Benito in January 2021.
The weather pattern isn't unusual. The fuels are. Usually things are green enough for these late season sliders to not be a concern. Fuels and weather now in alignment.
Wonder if there are going to be any hold all staffing patterns in the units that are under red flag warning
I thought I heard of a CNR staffing pattern go through yesterday in SKU. I don't know any details about it though.
Diablo winds occur in May. There is a more amplified high pressure system off the coast of Oregon and Washington this year which is sending these low pressure systems down stream into the Great Basin more amplified than normal. The sinking air is helping heat and dry things out faster than normal.
The very dry low level atmosphere could promote higher temperatures as we get into summer, despite the possibility of an early monsoon.