Are US ICS qualifications valid in Canada?
Pretty striking alignment between the clearcuts and the fire's spread. Just a giant game of hopscotch going on, spotting into dry/open/windy openings and hauling ass to the next stand of trees, repeat… Reminds me of the Bear Fire.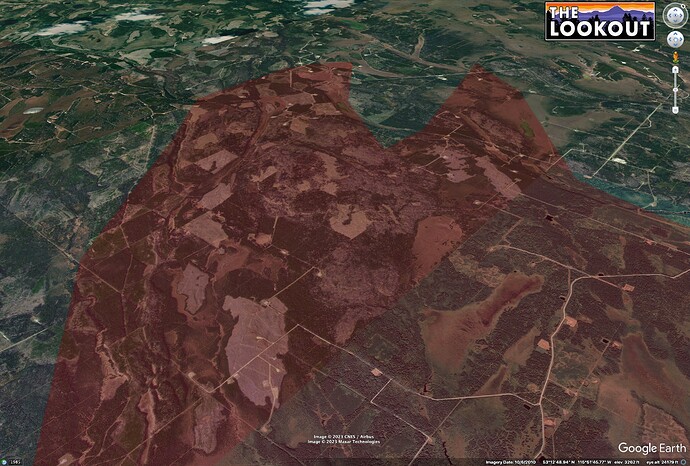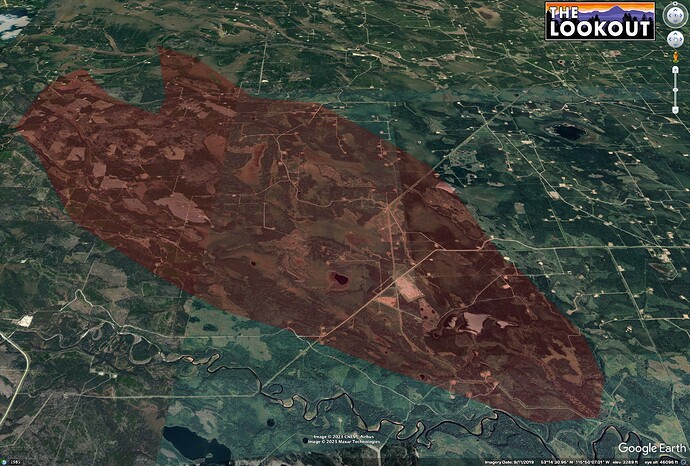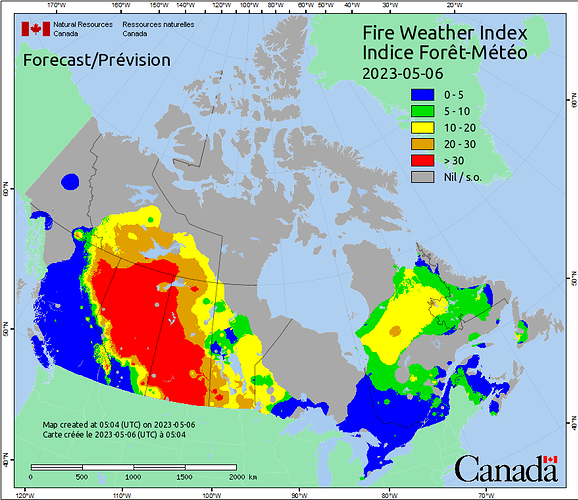 The Canadian Wildland Fire Information System (CWFIS) monitors fire danger conditions and fire occurrence across Canada. Daily weather conditions are collected from across Canada and used to produce fire weather and fire behavior maps.
Canadian Wildland Fire Information System (nrcan.gc.ca)
https://www.highlevel.ca/359/Evacuation
Swf 063 ran at least 14 miles since yesterday based on my satellite screenshots from yesterday and current Modi's/viirs detections, high estimate is 22 miles. 1 fire north of high prairie ran a similar distance.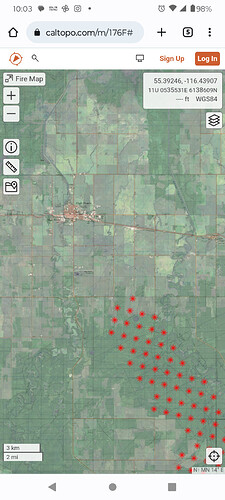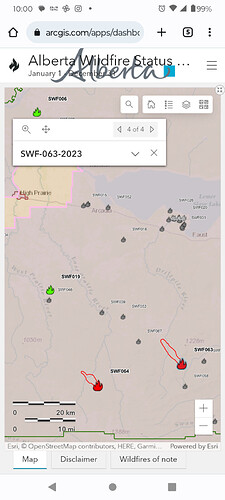 The situation is very bad. Forecast models are showing a record strength ridge building in around May 10th-May 16th. So surface winds will decrease, but intense drying and plume dominated fire behavior could occur. When this ridge breaks down, increased surface winds could promote explosive fire behavior.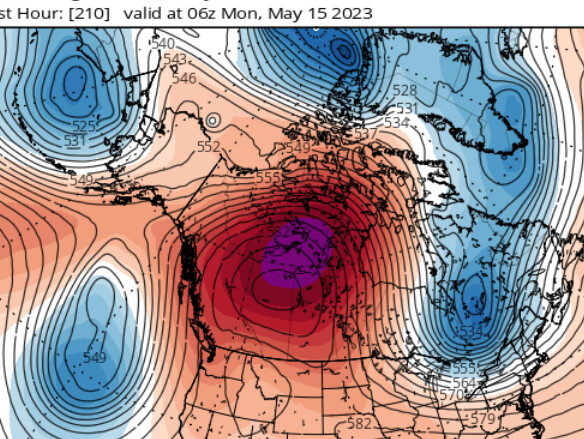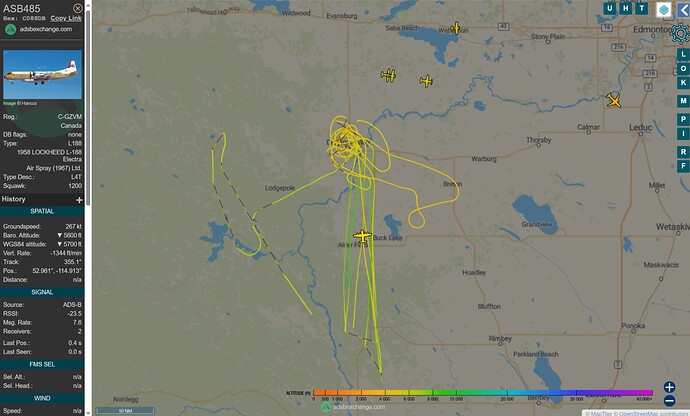 Lockheed L-188 Electra air tanker working around Drayton Valley.
Engines - Allison 501-D13 constant speed axial flow gas turbine engine
Normal Retardant Load - 3,000 US gallons
Normal Loaded Cruise Speed - 330 knots
Drop Speed and Configuration under various conditions - 125 - 140 knots
Minimum safe maneuvering speed @ fire bombing flap settings - 120 knots
Rate of Climb at maximum takeoff weight - all engines - 1500' - 2000' per minute
Gravel Strip operating capabilities - compacted gravel
Time Required - cold start to ready for take-off - 3 minutes
Flight Endurance in hours under normal loaded Cruise @ 12,000 feet ASL - 4.5 hours
Flight Endurance in hours under normal loaded Cruise on fire bombing missions @ 5,000 feet ASL - 4.0 hours (5,000 lbs. per hour)
L188 ELECTRA - AIR SPRAY
There's also a few air attack De Havilland Dash 8s and a King Air. Dash-8's do the same job as Broncos, King Airs, Aero Commanders and jet-powered Citations; Air attack, lead, recon and sensors. I think Canada calls these 'Bird Dogs', [ed]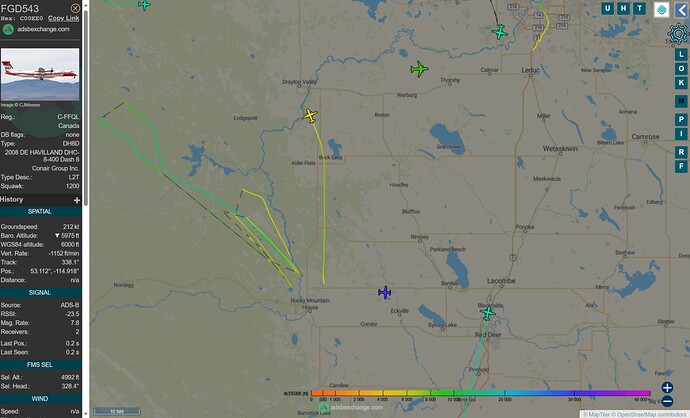 Also a dash 8-400 working.
Yeah. Radar and altitude are a little sketchy there. Not as easy to get 'em all in the picture at once, sometimes an aircraft shows up right after a screencap, lol. ADS-B has a few compliance holes, as well, but all the fire aviation should be on the system.
I should read things first. Dash-8 Q400s are also air tankers.
The Conair Group plans to retire all of their legacy L-188 and CV-580 air tankers and over the next two to three years replace them with De Havilland Canada DHC-8 Q400s.
Conair to replace all of their L-188 and CV-580 air tankers with Q400s - Fire Aviation (Jan 21)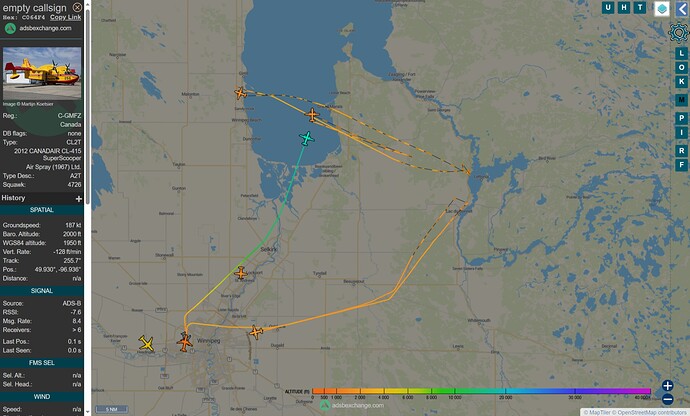 Winnipeg, Manitoba. AC90 Aero Commander and CL2T Super Scoopers. Possibly certification flights.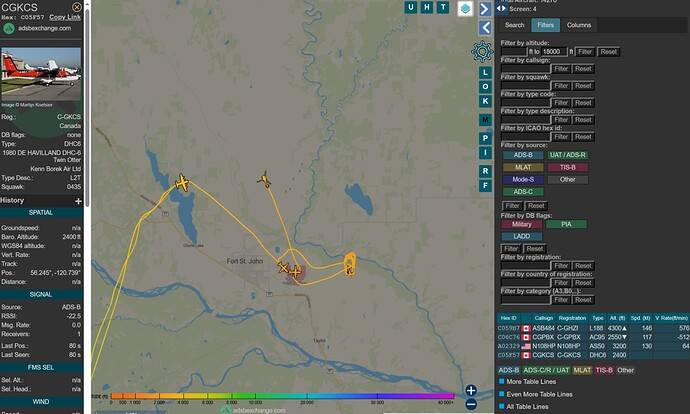 Fort St John, British Columbia. Air Spray AC95 Jetprop Commander and L188 Electra fire bomber. There's also an AS350 and a Twin Otter. Possibly initial attack on a fire in the Breatton River riparian.
Southern Area IMT 1 Blue Team been given notice Be ready to travel on Thru (was told it will be a Short Team ) …
NW IMT Team 3 (Quinones)
SA IMT Team Blue (Patterson)
2023 Support to Alberta
Order date 5/9
Per NOPS