I saw that too and lined up Deadwood and Bullion to get 37.66393,-119.45881. That places it in an area about .6 of a mile N/NE of Grayling Lake. It's about 2.7 miles from Red Peak and a couple of miles from Gray Peak. About the 8,300 foot level.
From the fire map on the parks web page: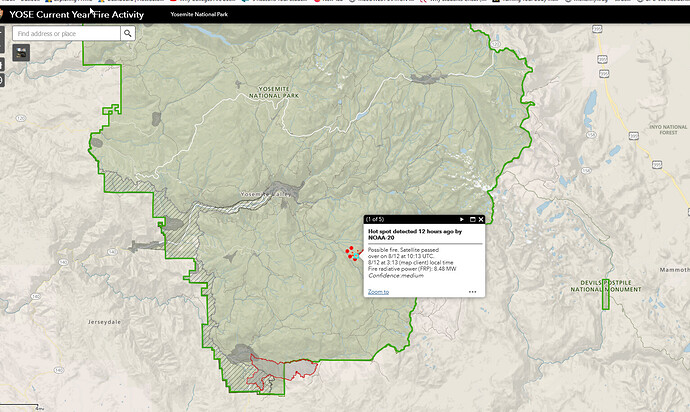 From Watch Duty, we have this: "Per Yosemite Fire Yesterday - Crews estimate the Red Fire to be 2 acres and are monitoring fire activity. The Red Fire was discovered on August 4 at approx 7,800 ft elevation in the wilderness and is a lightning caused fire…"
Haven't been able to find an official statement anywhere though.
Correct, looks like it moved around some today.
Yea, based on the view of the column from about 20 miles away I think it's at least a little movement. My location guess was a triangulation WAG, and I bet it's a little over their two acre benchmark now.
I see your 2 acres and raise you 20 (acres) Red Uncrustables.
It's burning in the 01 hoover fire scar.
Looks like it is pretty rocked out to the north, south, and east.
@Rfdadams, "monitor" is the status fire is in. Maybe watching by Cams like we are, maybe a flight now that it has made an appearance, but probably only on YNP channels and no resources to chat about it… Yet. Maybe it is deserving of one stick, we'll see.
Years ago I would say "no way it's surrounded by granite." Now-a-days I keep those words to myself.
I should just make the Mt. Bullion cam my homepage with how many fires it's on this summer.
A bit more information showing up. Yosemite Fire Mgmt. Twitter stating 50 acres and also has a time lapse video.
Also a brief local news story here:
I've backpacked around reds peak and triple forks and it's a very rugged area. Fly in
They were anticipating this last night because they had turned the meadow lakes camera towards shuteye and Madera peak. Its turned to shaver now because of a vehicle fire that's out now.
H520 did recon the Madera fire two completely different strategies at work with in 10 miles of each other, Madera north of beasore road at the base of Madera peak in the creek fire scar in a spot that had a crown fire that just has bear clover coming up was full suppression fire while right over the hill a ways this one is monitored and will be doing some good work.
Interested to see how things go with the weather coming in the next few days.