This thread will be dedicated to emerging technology as it relates to wildland firefighting.
Hey all, I'm a software developer that's been working on a wildland firefighting simulator called FireJumpers Inferno. It's a training tool disguised as a game. I've mapped out the entire western United States using GIS data from US Landfire goverment website.
If someone is interested in knowing more, you can view the upcoming game on Steam (release date: Summer 2021):

You can also contact me via:

@jasonredhawk im gonna get you in contact with someone. Can you pm your email?
Awesome! I'm not sure how to PM you on this forum. My email is on the Facebook page.
Hi. I´m working on a wildfire prediction application using drones as part of my master thesis. If someone is interested in the field and wanna participate providing feedback, feature requests, or could be interested to be a pilot user of the solution when it´s available, let me know.
Some good stuff here from Quake technologies. They were part of a cool documentary from verizon last fall called the "speed of thought". This solution for the airforce is also aimed at Smoke jumpers and would be an amazing fit with the TAK suite of tools.
I have always thought ATAK would be such a great tool for Smoke jumpers especially with the Somewear labs plugin to track them where ever they are over sat comms. Maybe this project will expose them to ATAK.
I got a call today from a guy that is talking about using SAR radar satellite imagery to map fires. Says commercial vendors will soon be able to provide up to 10 images a day. Anyone know anything about this, @Ballofire @ajohansson ?
Yup its real and when the constellation is finished try 15 min temporal resolution. Not sure who the vendor is will reach out to my FEMA contact. This might have been a gov constellation. But hell 10 a day for commercial is even Kind of scary actually. For damage assessment this is unreal. Look out ICS-209 we might have some accurate numbers the first 24 hours!
I don't who it might be but that would be quite interesting. In grass and brush it would probably only show active flame location. In forests it might also show the areas where leaves are dehydrated or consumed.
Feel free to give him my contact info or send me his. I think we could use this. Thanks @pyrogeography !
Not sure how I feel about Elon Musk or some other tech-god frying my gonads 96 times a day.
Due to the frequency of collection change detection is going to be very useful. Having machine learning compare the pre to post will be able to determine fire location. Will for sure be able to tell in an urban setting structure loss. Get out your tin foil hat. We already do have fireguard from the national guard but its not SAR but as far as getting timely intel its in play and what was a CA NG thing is becoming a national program.
So I saw an article on VNCs new Fire Hawks. Tip of the spear now. UC-6000 mapping engine and a FLIR. Got to get these folks into ATAK. Could do some amazing stuff.
I have been following this company for a couple years and this news is huge. This is cellular from space.
Hi all here is another cool project that has been in the pipeline for awhile. Its gonna go commercial in first quarter 2022. I was on a call today with the program manager and we got talking wildland fire and they are very confident on its use outdoors for tracking personnel.
Pretty cool article from L3 and Range & Bearing. Some ATAK integration in here.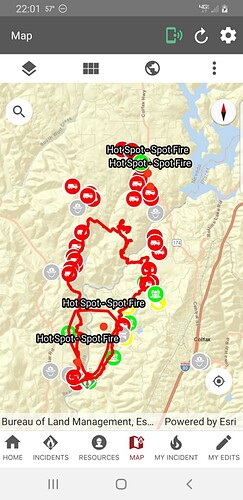 What app are you using? Is it available to the public?
That's CALFIRE specific agency only…much appreciate the posts from CALFIREBC sharing updated info.!
I'm sure I have the same access as CALFIREBC, I've never seen that app. What is it and how do I get it?